The Lincoln Navigator is a full-size luxury SUV that delivers substantial power, three rows of passenger space, and upscale comfort features. You'll also love the Navigator's tech and safety innovations, which keep you connected on the go. On the road, the Navigator is smooth and composed. This SUV makes it easy to tow your favorite toys to the beach or great outdoors.
Used Lincoln Navigator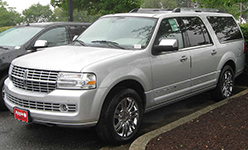 As you shop for a used Lincoln Navigator, look for a certified used model. These SUVs undergo a 200-point inspection to ensure their dependability going forward. Once they become certified, certified used Navigators offer a range of features you won't find in other used models. For instance, the 24-hour roadside assistance program sends help when you need it most. Your certified used Navigator also comes with comprehensive warranty coverage, further boosting your peace of mind.
This used Lincoln Navigator is the best yet. Its 5.4-liter V8 engine generates 310 horsepower for a smooth, powerful ride. The engine is paired with a six-speed automatic transmission that's tuned for a comfortable ride. Choose between rear- and four-wheel drive for the performance you require.
Inside, the Lincoln Navigator is spacious and refined. Leather upholstery maximizes passenger comfort and interior style. All three rows can be heated to keep everyone cozy during winter weather. Up front, cooled seating offers relief during the summer months. No matter where you choose to sit, you'll find the Navigator provides ample elbow-, head-, and legroom.
These SUVs are also big on tech features. The voice-activated Sync system lets you access infotainment apps without looking away from the road. The dual display rear-seat DVD entertainment system will keep young passengers entertained for hours on end. With the heavy-duty tow package, it's easy to tow your boat to the beach.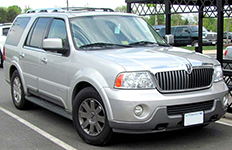 The second generation used Lincoln Navigator cars were updated, both inside and out, for an increasingly modern, luxurious ride. They became the first to use a six-speed transmission for a smooth, responsive ride. The independent rear suspension enhanced on-road comfort even further.
Keep in mind that these models saw a few changes over the years. The 2003 and 2004 Navigators used a 5.4-liter engine that produced 300 horses. This engine was paired with a four-speed automatic transmission. In 2005, stability control became standard equipment, increasing overall safety.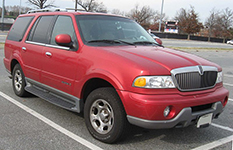 When the Lincoln Navigator first appeared in 1998, it was the original full-size luxury SUV. Its standard V8 power provided a smooth, refined ride. The first Navigator used a 5.4-liter V8 engine rated for 230 horsepower. In 1999, output increased to 300 horses. In 1999, the third-row seat became easy to remove, thanks to mounted rollers on the seat bottom. In 2000, Lincoln added rear parking sensors to help drivers ease the Navigator into parallel parking spaces.