The Ford Mustang is one of the most popular muscle cars ever produced, offering handsome good looks, thrilling speed, and a refined cockpit. Since its inception in 1964, it's been a leader in style and innovation. The modern, sixth-generation Mustang continues that tradition, introducing more performance-enhancing features and style than ever before.
Used Ford Mustang

If you're in the market for a used Ford Mustang, check out Certified Used models. To become certified, each model must pass a 172-point inspection to ensure its ongoing reliability. The cost of a Certified Used model also includes a variety of limited warranties to help you maintain your Mustang far into the future. Take a Mustang for a spin today!
Just when it seemed like the Mustang couldn't get any better, the sixth generation arrived to widespread critical approval. The new independent rear suspension delivers incredible performance enhancements, generating a smooth, comfortable ride and responsive handling. On the road, the Mustang feels increasingly stable during both braking and acceleration. You'll also notice that this new Mustang offers incredibly precise steering.
In addition to performance tweaks, the new Mustang lineup provides an impressive engine lineup. New for 2015 is the turbocharged EcoBoost four-cylinder engine. Compared to the base V6 engine, it enhances output and fuel economy, offering 310 horsepower, 320 pound-feet of torque, and 26 mpg combined. Of course, the Mustang GT is still equipped with a V8 engine for superlative muscle car power and performance. All engines can be had with either a six-speed manual or six-speed automatic transmission.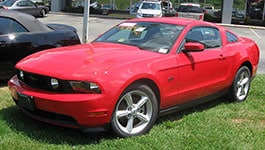 The fifth-generation used Ford Mustang appealed to modern drivers with a well-mannered ride and an upgraded interior. Ergonomics were redesigned for excellent long-term comfort. Once again, the new exterior style took its inspiration from previous Mustang models, recalling 1965 models with its fastback roofline.
Inside, the retro-flavored cockpit went hand-in-hand with the new exterior. Circular air vents and the large tachometer added to the Mustang's vintage feel. Drivers could change backlighting color from white to blue, green, or orange for a personalized touch.
Under the hood of this used Mustang, the base V6 engine produced 210 horsepower for a swift, smooth ride. Shoppers could optimize performance with the GT model, which came with a 4.6-liter V8 engine that produced 300 horses. The fifth-generation's new suspension was retooled to create a supple ride and sensitive handling, greatly improving the on-road experience.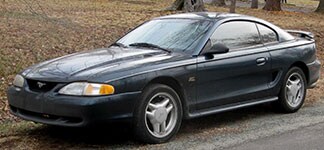 When the 1994 model first appeared, it offered a variety of new tech features, including a passenger airbag and power driver seat. The tilt steering wheel was newly standard, making it easier to locate a comfortable driving position. Convertibles could be had with a removable hardtop. Retro styling cues played upon Mustang conventions of old, including tribar taillights and the side-scoop body.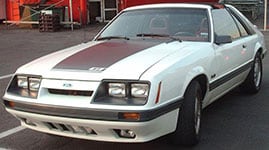 The third-generation used Ford Mustang was available as a coupe, hatchback, or convertible. A new performance model delivered excellent speed via a turbocharged, 2.3-liter four-cylinder engine. By 1982, it was working with a strong V8 engine and was christened the Mustang GT.

These second-generation Ford Mustangs were introduced just after the oil crisis of 1973, inspiring a Pinto-based model that improved fuel economy. Engines from this era included a 2.3-liter inline-4 and a 302 cubic-inch Windsor V8. The second generation did away with the convertible.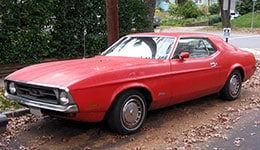 The original Ford Mustang was also the very first four-seat sports car. Outside, the aggressive lines of this all-new vehicle reminded shoppers of the Corvette. Inside, the Mustang traded trunk space for prime passenger space.